About Us
---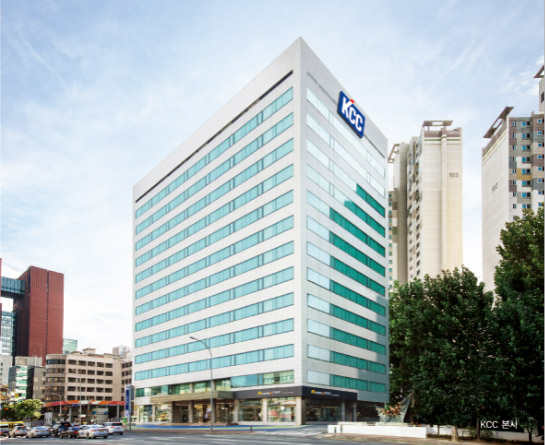 KOREA KCC GROUP

Founded in 1958 and listed in 1973, KCC Kumgang Koryo chemical group is the largest manufacturer of coatings and building materials in South Korea, ranking third in Asia and ninth in the world. The products are widely used in automobile, ship, container, industry, color steel and construction industries, and the total number of employees is more than 5000. KCC has 13 factories and a construction company in South Korea, and the scale of its factory in Yushan ranks first in the world. In China, Singapore, Malaysia has a sole proprietorship, while in the Americas and Europe with processing enterprises. In order to ensure that it can provide more, newer and better products to the market and always maintain the leading position in technology in the same industry in the world, KCC has set up a central research institute in South Korea, which invests 5% of the sales volume to the Central Research Institute every year. The Academia Sinica has not only the most advanced and cutting-edge experimental instruments and equipment, but also more than 600 experts and senior researchers. It is the cradle for the development and research of new products and new technologies.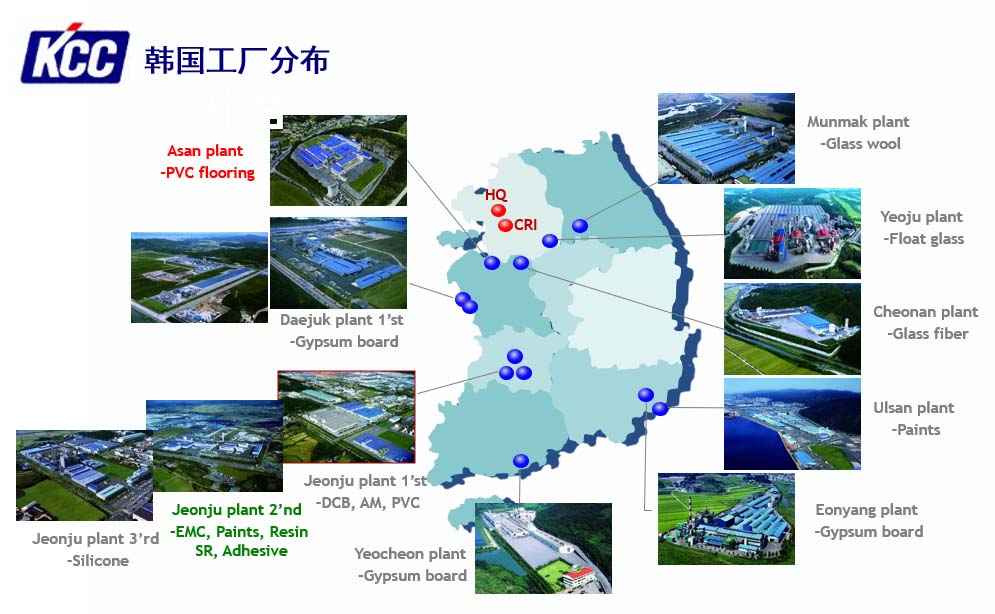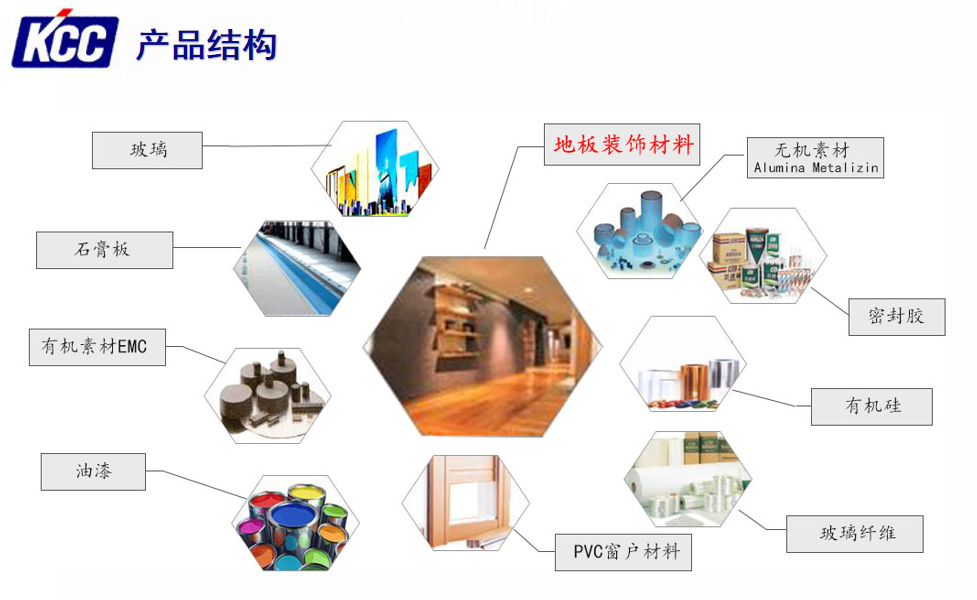 KCC group is the first enterprise in South Korea to research and develop elastic floor materials, and makes full use of its R & D advantages to its products. Its commercial flooring has a number of patented technologies, and its production process is world-class. It adopts the highest level testing standards of the European Union, so as to provide customers with the most perfect elastic floor material solutions.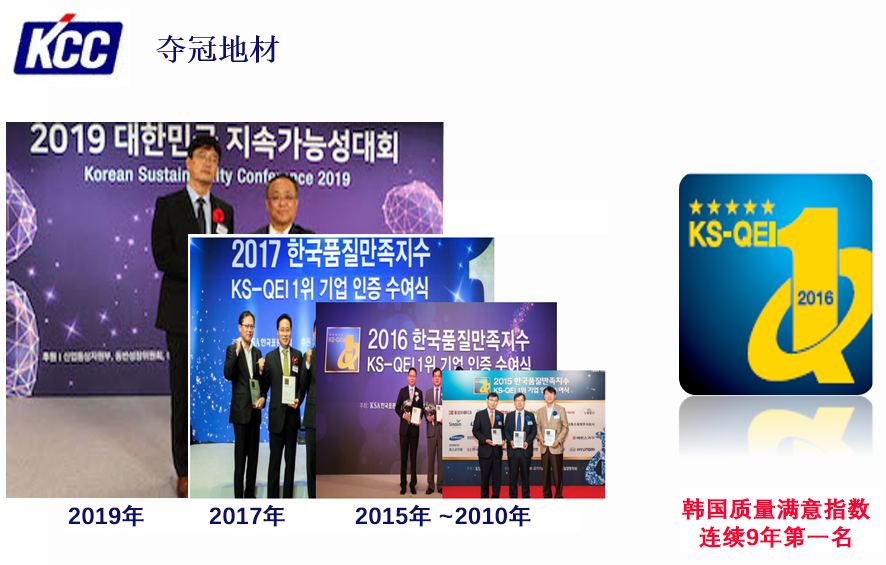 KCC brand PVC flooring has won the first place in Korean quality satisfaction index and sales volume for 9 consecutive years. Its products are exported to America, Europe and Southeast Asia and other countries. Its rich color and unique functionality and comfort are highly praised by users. KCC commercial flooring is widely used in medical and health system, cleaning system, education system, hotel, gymnasium, library, Expo, shopping mall, office and public space and other ground areas, truly creating comfortable space for customers in rehabilitation, research and development, learning, accommodation, sports, leisure and work. Adhering to the concept of "green, environmental protection and safety", the company has international brand quality and perfect market service, which has won the trust and support of many domestic customers.
---


KCC BRAND OPERATION CENTRE

Since its entry into the Chinese market in 1994, KCC has made full use of its advantages in technology and materials and has actively participated in domestic construction in China. It has successively cooperated with China Construction First Engineering Bureau, China Construction Second Engineering Bureau, Jinhai heavy industry, Yangfan group, CIMC group, Shengshi group, Maersk Group, Xinhua Chang Group, Orient International Group, Anhui Heli, Hyundai (Jiangsu) and Changlin shares , Kaiao Baoli (Jiangsu), Jiangsu Jingjiang forklift truck, Zhejiang Zhongyuan Construction Co., Ltd., Guangdong Provincial Fifth Construction Engineering Bureau, modern construction engineering (Wuxi), Weihai Sanjin, Shanghai Shipyard, Nantong Mingde heavy industry, Hyundai Automobile, Dongfeng Yueda Kia, Anhui Jianghuai, Rongcheng Huatai, GAC Jiao, Lianhe steel, Hesheng new material, Maanshan Iron and steel, Panpan pan, Panzhihua Iron and steel, etc Enterprise cooperation contributes to the construction wave after China's reform and opening up.
Inspired by this, KCC introduced the floor decoration materials into the Chinese market in 2008 by the way of pure import, creating a high-quality environmental protection flexible flooring brand marketing, marketing, warehousing and logistics integration enterprise, to provide customers with overall engineering decoration solutions. Based on the platform of KCC Industry (Guangzhou), the Overseas Department of KCC has set up KCC commercial flooring operation center in China to provide brand promotion, marketing and integrated services in the Chinese market, with its headquarters in Guangzhou. The company is committed to improving the level of localized services, and has successively set up regional commercial offices of KCC Co., Ltd. in various provinces and cities across the country, which is responsible for product sales and marketing promotion in the local market. The company is equipped with perfect organization and operation structure. The marketing department, sales department, technology department, finance department, purchasing department and storage department provide strong guarantee for product development and market service. At the same time, it pays attention to the introduction and cultivation of talents. It has a group of dedicated and dedicated service teams. KCC brand operation team always adheres to the enterprise spirit of service first, unremittingly focuses on product research and development and innovation, pays attention to quality and service guarantee, meets customers' personalized requirements from the interests of customers, and creates value for customers.
---